Finally it's here! No more harassing, no more spam and no more unwanted remarks. Blacklist is here, ready to help!
Now you are able to block anyone who you are not wishing to contact with you.
Black list is totally blocking any messages from blocked player on public channel, private message, guild chat, room, trumpet's, team chat and during the battles.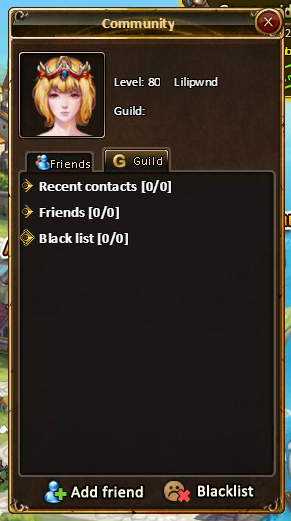 How can you add players to Blacklist?

You have two ways to do it.
First way is to directly block player in chat window by clicking his name and picking "Add to Blacklist" option.

Second way is to add player you want to block via your Friends window (Friends/Guild list). At the bottom of window you can see two options: Add friend/Blacklist. After pressing "Blacklist" you will be asked to input player name you want to block.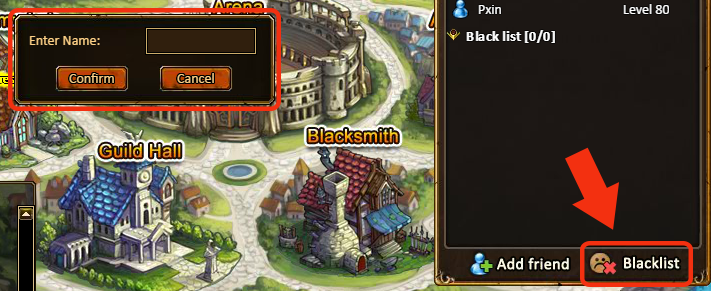 Please remember that you cannot add to Blacklist players who are already on your list as friends. In order to do it you will need to remove player from your Friend List and add him to Blacklist afterwards.How to remove someone from my Blacklist?

In order to remove someone from your Blacklist, you need to open Friends tab (Friends/Guild list), open Black list category, click on the player you want to remove from this list and pick "Unblock" option. After this you will be asked if you are sure that you want to unblock that person.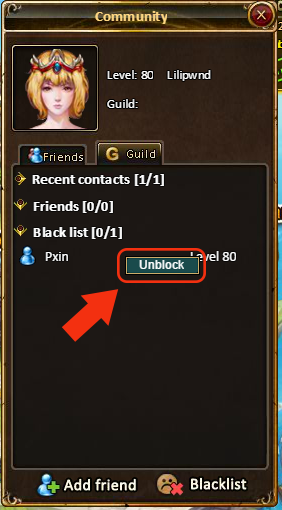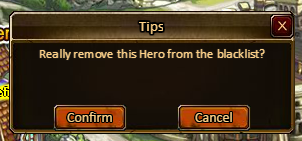 Additional info:

- Players you blocked, can continue send message to you (without knowing that they are blocked) but you will not see those messages. So it can happen that you will try to contact someone and your message will be not delivered due to being blocked by this player.
- You can have maximum 200 of Friends and Blacklisted players. What means that if you already have 150 Friends, you will be able to add to Blacklist only 50 players.
- You can blacklist your guild mates.
- You cannot add blacklisted player as a friend.
- You can only add players from your own server to your friends list and blocked list
- Players blocked by you will be marked red (red nickname) in the Arena and Challenge Hall