I. How do I purchase gold in Kings and Legends?
In order to purchase Gold, you will need to access the Gold Shop. You can access this shop from:
The account page after you log into kingsandlegends.com
The 'Shop' button on the Forum (if you have logged in).
The navigation bar from when you're logged into the game.

II. Purchasing gold as a First Time Buyer
If you've never recharged for Gold before, you will have access to an exclusive discount for First Time Buyers!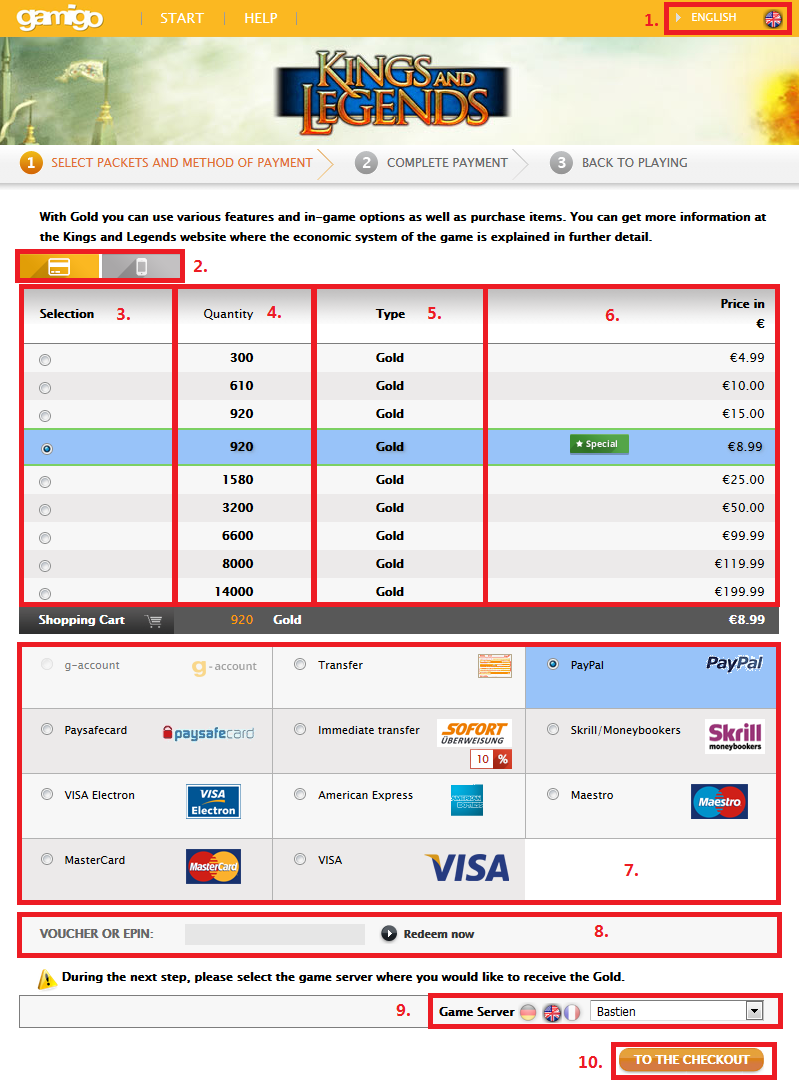 Language-select. You can change the language of the Shop.
Payment Options: Default option (left) and Mobile-Payment options (right)
Select Gold pack button*
Amount of Gold inside the pack
Currency name: if it doesn't say Gold here, you're in the wrong shop!
Price: how much you have to pay in your currency.
Payment methods: Choose what is the most comfortable for you. If you've made previous purchases, your previous Payment Method will be remembered (cached in the cookies of your browser). This can be changed at any time with the "change" button. The g-account can only be used if you have a cash balance there already!
If you have a Discount or Bonus Cash Voucher, enter it here to redeem it
This shows to which Language-version and Server your Gold will be delivered to!
Happy with your selection? Then click this to go the Payment processing steps.
Shopping Cart: displays the quantity of Gold and Price of the Gold Pack youhave selected.
* You can only select one pack at this stage. The green marked 'Special' pack is a First Time Buyer bonus and is only available for your first purchase.
III. Purchasing gold as a return customer
If you have previously purchased Gold in Kings and Legends, you'll see the same setup but missing the green-marked 'Special' pack.
Also, your previously used purchase method will already be selected for use. You can change it by clicking 'Edit' button.
Don't worry, we periodically have Bonus Gold sales for everyone to enjoy!
IV. Mobile Payments
If you switch to Mobile Payments, you'll see a different selection of Gold-Packs.



Select the right-hand tab to switch to Mobile Payments
Choose your desired Gold pack.
Double check that the gold is going to the correct game server.
Depending on the country and shop, there might be different services offered. Some allowing SMS or cell phone payments.
If you select the text message payment, you will need to enter your phone number.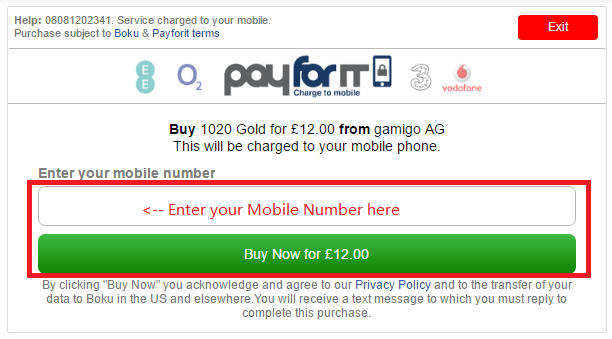 After inserting your phone number, you'll receive a TAN number (confirmation code) via text message to your phone. Enter this number in the following field.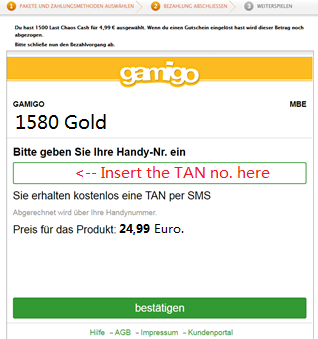 Once inserted, click on the green 'Confirm' button and the transaction will be completed.
If you want to pay via telephone call, please select that option. You will be redirected to a page listing a telephone number. Please call the number and follow the prompts, a security confirmation code will be requested, which you can find under the telephone number.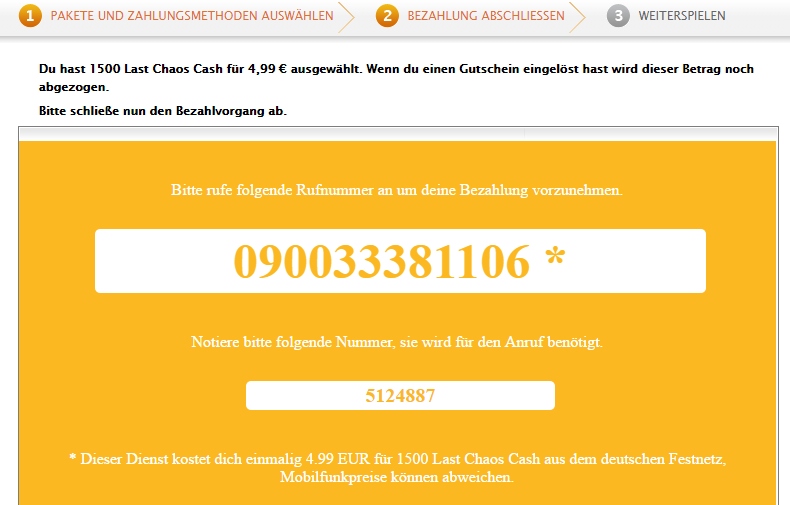 Follow the instructions given to complete the purchase.
V. Charging money to your g-account
In order to add money to your g-account and using it to purchase Gold, you'll need to log into the gamigo portal.



Log into your gamigo
or
game account and click on '
my gamigo
' and select the '
g-account
'.
Then please select "
charge g-account
". You will be redirected to another page.
Choose your payment method and follow the payment steps.
The money will now be loaded onto your g-account and can be used to exchange for Gold in the Kings and Legends Gold Shop, or used in the Cash Shops of other Gamigo games.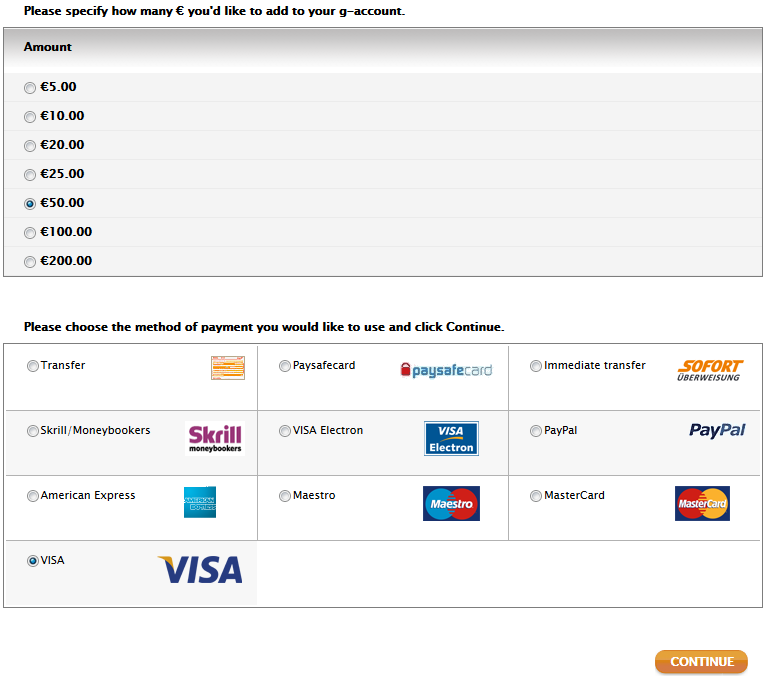 To make an exchange, head back into the Kings and Legends Gold Shop, select the Gold pack you wish and select 'g-account' as your payment method. Click 'continue' and the money will be deducted from your g-account and your Gold added to your account.